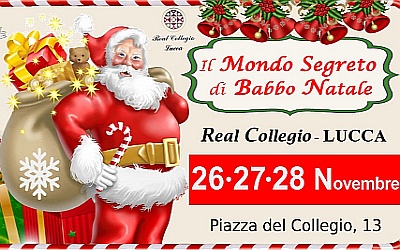 The Secret World of Santa Claus will take place at the Real Collegio from 26 to 28 November. Children are the protagonists of the magic of Christmas. They will prepare Christmas gifts and decorations together with the elves in their workshops, in order to officially become "Santa's Little Helpers".
Entertainment with writing and posting the letter directly in Santa's post office, watching puppet shows and having fun with Baby Dance, wooden playtools, inflatables.
The beautiful and welcoming home of the King of Christmas in his throne room will overwhelm young and old visitors in a magic Christmas atmosphere.
The complete program is available on www.ilmondosegretodibabbonatale.it/programma.For information please write to info@pubbli-eventi.it. Online reservations at www.ilmondosegretodibabbonatale.it/biglietti.
Dates
November 26 / 28, 2021
Start / End Time
10:00 am / 7:00 pm
Place
Real Collegio. Piazza del Collegio, 13 - Lucca