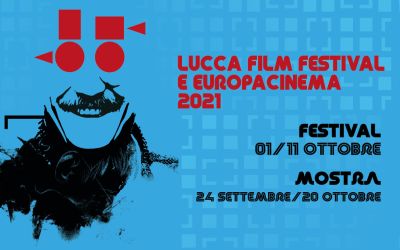 Lucca Film Festival Europa Cinema celebrates and promotes film culture in an expanded and multidisciplinary dimension with a format that is unique in the panorama of European festivals with a bold but carefully designed programme that ranges from experimental to traditional films.
Every year the festival offers dozens of films and premieres with live production of original, choral, scenographic and immersive events, accompanied by a programme of exhibitions, competitions, masterclasses, themed guided tours, even diffuse and virtual meetings with great guests, and programmes for children.
In the 2021 edition Tribute to Nino Manfredi and Aleksandr Sokurov and the first film competition on Twitch.
in the Art and Cinema section in collaboration with the Ragghianti Foundation
Friday 1st October
18:00 - Auditorium san Micheletto
Conference Paleostorici
Cave of Forgotten Dreams by W. Herzog (France/Canada/Germany/USA/UK 2010)
sunday 3 october
5:30 p.m. - Auditorium san Micheletto
La rivoluzione siamo noi: arte in Italia 1967/77 by Ilaira Freccia (Italy 2020)
Monday 4 October
9:00 p.m. - Auditorium san Micheletto
Parole dipinte: il cinema sull'arte di Luciano Emmer (Italia 2010)
Selection of episodes from the complete work:
Invenzione della Croce
La paz y la guerra
I magici colori di Napoli
Romantici a Venezia
Tuesday 5 October
3:00 p.m. - Auditorium san Micheletto
Genio e sregolatezza by Alessandra Galletta (Italy 2019)
Miniseries in 4 episodes.
9 p.m.
Criptofilm by Carlo Ludovico Ragghianti
Comunità millenarie  (1954)
Lucca Città comunale (1955)
Urna etrusche a voltera (1957)
Arte della moneta nel tardo impero (1958)
Pompei urbanistica (1958)
thursday 7 october
5:00 p.m. - Auditorium san Micheletto
Renato Guttuso: natura morta con peperoni by Franco Simognini (Italy 1975)
Saturday 9th October
5:00 p.m. - Auditorium san Micheletto
Sea Art Barcelo by Maud Baigneres, (France 2021)
All the events of the festival are free of charge subject to booking up to 2 hours before the event and subject to availability.
Info and reservation: biglietteria@luccafilmfestival.it
The comolete programme of the festival on luccafilmfestival.it
Live broadcasts on the festival channels - FB / luccafilmfestival - IG / luccafilmfestival - TW / LuccaFilmFest - YT / channel/LuccaFilmFestivalEuropaCinema - Twitch.tv / luccafilmfestival
Dates
October 1 / 10, 2021