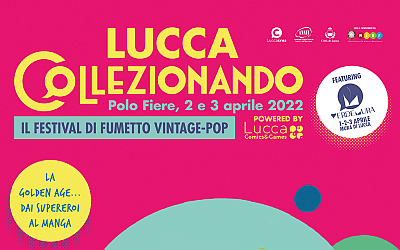 5th edition of Lucca Collezionando, the exhibition market dedicated to the universe of comics and its worlds, with guests, exhibitions, meetings and events, a "must" for fans. A weekend for fans and families.
The ideal place to complete a collection of comics, buy the most loved titles and bestsellers that have made the history of the Ninth Art, explore the new frontiers of the world of comics and manga, meet great authors of the art of comics and culture pop.
A journey into the 70s, 80s and 90s, to rediscover Italian, European and American collectible vintage, classic manga and anime.
This edition celebrates the 50th anniversary of two titles that continue to win over Japanese pop culture fans of all ages: the manga of Lady Oscar by the designer Riyoko Ikeda and the anime of Devilman, dedicated to an adult audience and based on the Go Nagai's work of the same name.
The Collectable Area is dedicated to the collecting of figures and statues, with limited editions from Japan, rarities, vintage items and memorabilia.
There is also space for the imagery of the 80's arcades and their spirit of aggregation, friendship and sociability, with a magnificent area with the most played coin-operated video games ever.
Original Tables, with collectors, galleries and associations that revive the thrill of having an original piece of the history of comics.
Specials, guests, meetings and exhibitions of the 2022 edition.
With the entrance ticket to Lucca Collezionando you can also visit VerdeMura for free.
Start / End Time
saturday 9:00 am / 7:00 pm - sunday 9:00 am / 6:00 pm
Place
Polo Fiere. Via della Chiesa XXXII, Traversa I, 237 - Lucca
Ticket
€ 5,00 / € 10,00. Subscriptions and reductions provided.