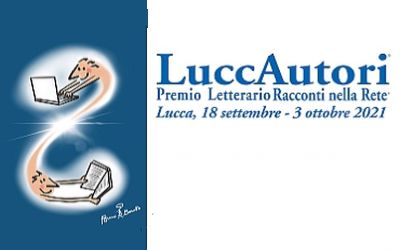 XXVII edition of the LuccAutori Festival linked to the XX Literary Prize Racconti nella Rete.
The event includes meetings, art exhibitions and short films. During the meetings the twenty-five winning writers from all over Italy will be awarded. A special section for children's stories and for the Short Story Prize reserved for short film subjects.
In the program on Saturday 2 October
4:30 pm - Auditorium San Romano | Cinque piccoli frammenti di Stefano, shorfilm based on the subject of the winning script. Screenwriter Antonio Lucarini. Produced by LuccAutori and the film academy Immagina of Florence. Directed by Giuseppe Ferlito.
Awarding ceremony of the winning authors of the Racconti nella Rete prize.
5:00 pm - Auditorium San Romano | Aidr Award – Italian Digital Revolution to Alessandro Castrichella. Contribution by Mauro Nicastri.
After awarding of the Buduàr prize to Maria Grazia Scalas for the best humour story.
Sunday 3 October
4:30 pm - Villa Bottini | Awarding ceremony for the winners of the 20th edition of Racconti nella Rete.
Conducted by Maria Elena Marchini. Music by Giuseppe Sanalitro, readings by Mario Cenni, Fabio Dostuni and Antonella Lucii.
For information: +39 0584 651874 - info@raccontinellarete.it.
The event is part of the Settembre lucchese 2021 program.
Dates
September 18 / October 3, 2021
Place
Auditorium San Romano. P.zza San Romano / Villa Bottini. Via Elisa, 9 - Lucca