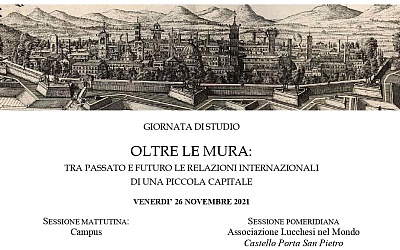 The city and international relations in history.
Friday 26th November
Oltre le Mura: tra passato e futuro le relazioni internazionali di una piccola capitale. Beyond the Walls: the international relations of a small capital between past and future. Study day in Italian language in collaboration with the Campus Foundation.
9:30 am - Campus Foundation | Evoluzione delle comunità italiane all'estero e importanza del turismo delle radici. Evolution of Italian communities abroad and the importance of root tourism, promotional initiatives aimed at communities abroad. Organised by the Lucchesi nel Mondo Association.
3:30 pm - Lucchesi nel Mondo Association | Importanza storica di Lucca come snodo viario. Historical importance of Lucca as a road junction and consequent development of trade and industries, and as a destination for illustrious visitors.
Reservations required by writing to lucchesinelmondo@gmail.com
Start / End Time
9:30 am / 8:00 pm
Place
Fondazione Campus. Via del Seminario Prima, 790 - loc. Monte San Quirico / Associaizone Lucchesi nel Mondo. Castello di Porta San Pietro. Mura Urbane, 6