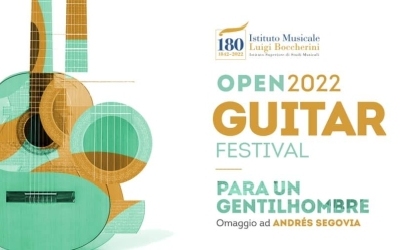 OPEN Guitar is a guitar festival part of the OPEN 2022 program, a rich concert season including performances, masterclasses, conferences, seminars and workshops organized by the "L. Boccherini" Institute, with the participation of internationally renowned artists and prestigious collaborations.
The red thread connecting the concerts of Open Guitar 2022 is the figure of Andrés Segovia, maestro and guitar genius, to whom the festival is dedicated this year.
Scheduled on Monday 21 February
5:00 pm - Auditorium del Suffragio | Andrés Segovia. Uno sguardo all'eredità di un grande Maestro, conference in Italian language curated by Stefano Picciano, music expert and guitar player.
Reservation requested on Eventbrite 
Dates
February / June 2022
Place
Auditorium del Suffragio. Piazza del Suffragio, 6 - Lucca