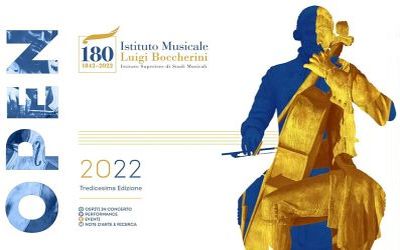 OPEN is a festival presenting a rich concert season including performances, masterclasses, conferences, seminars and workshops organized by the "L. Boccherini" Institute, with the participation of internationally renowned artists, prestigious collaborations and the presentation of new talents.
Scheduled on Sunday 3 April  
5:00 pm - Auditorium del Suffragio | Del soffio e dell'arco. Trio Bologni, Datteri, Rogai in concert.
Filippo Rogai, flute; Alberto Bologni, violin; Fabrizio Datteri, piano. 
Music by C.P.E. Bach, M. Bonis, F. Doppler, N. Rota.
Reservation requested on Eventbrite
Dates
January / October 2022
Place
Auditorium del Suffragio. Piazza del Suffragio, 6 - Lucca