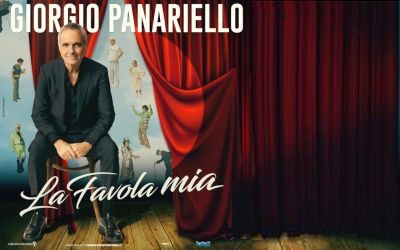 The Giglio theater, artistic and cultural reference point in Lucca, opens to famous personalities from the musical, comic and cultural fields.
Italian comedian Giorgio Panariello returns for a new unmissable tour in various Italian theatres with a unique one man show in his unmistakable style.
Lots of laughs, a pinch of irreverence, topicality and the great classics of his repertoire: Panariello talks about himself, retracing in a new and modern way the 20 years that have seen him as a protagonist in theatre, cinema and television.
Scheduled for today 22 February
21:00 / 23:00 - Teatro del Giglio - La Favola Mia. The Tuscan comedian returns with a new show after conquering the audiences all over Italy with a tour of over two years.
Presale:
www.ticketone.it, Coop supermarkets with ticket service, MediaWorld shops. Teatro del Giglio ticket office: tel. +39 0583 465320.
Start / End Time
9:00 pm / 11:00 pm
Place
Teatro del Giglio. Piazza del Giglio, 13/15 - Lucca