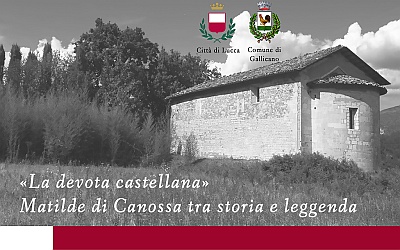 La devota castellana. Conferences in Italian language about Matilda di Canossa between history and legend, on Sunday 26 September at 3.00 pm in the S. Lucia Church in Gallicano.
A journey through the historical and memorial presence of the Canossa family in the Gallicano area.
Speakers:
Ilaria Sabbatini - Il caso Gallicano nel sistema di controllo viario transappenninico di età canossiana (The Gallicano case in the trans-Apennine road control system of the Canossian age);
Paolo Tomei - Le strutture aristocratiche nel territorio della Valle del Serchio al tempo di Matilde di Canossa: la nascita della signoria urbana (The aristocratic structures in the territory of the Serchio Valley at the time of Matilde di Canossa: the birth of the urban lordship);
Fabrizio Riva -  L'antica pieve di San Cassiano di Gallicano (The ancient parish church of San Cassiano di Gallicano);
Enrico Romiti - The churches of Gallicano: a stratigraphic reading of the medieval walls;
Ivo Poli - I 'sesti' matildici (The Matildic 'sesti')
Italo Pierotti and Maria Stella Adami - San Pietro di Fiattone e San Pietro di Trassilico, chiese matildiche nella tradizione popolare (San Pietro di Fiattone and San Pietro di Trassilico, Matildic churches in popular tradition).
For information and reservations please call +39 348 6618739. Program (.jpg).
Place
S. Lucia church. Gallicano (LU)