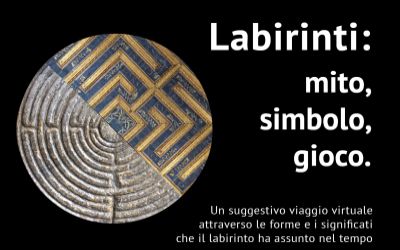 Within the Celebrations of the Cathedral's 950 + 1 anniversary a digital exhibition dedicated to the famous labyrinth carved on a pillar of the portico of the San Martino Cathedral and the myths linked to this fascinating and mysterious structure entitled Labirinti: mito, simbolo, gioco is organised and curated Annamaria Giusti.
 
The event is inspired by the famous labyrinth in the Romanesque portico of the cathedral.
In Lucca, as in other medieval cathedrals, the labyrinth took on a double meaning as a symbol of the believer's journey towards God and the tiring journey faced by the pilgrims.
The exhibition in the oratory of San Giuseppe, open from 26 August to 10 October, leads the visitors through a suggestive virtual journey through the forms and meanings that the labyrinth has taken over time, from ancient Greece to the present day. From the palace of Crete to the Roman mosaic floors; from medieval cathedrals to Renaissance and Baroque gardens, to the dead end labyrinths of modern art.
Every day 10:00 am / 6:00 pm
On Friday and Saturday also from 9:00 pm / 11:00 pm, last admission at 10:00 pm.
From 9.00 pm / 11.00 pm in Piazza San Martino, special outdoor video projection entitled La sfida del labirinto. Visitors become protagonists of the luminous and changing labyrinths that will appear on the pavement at dusk.
For Info and reservations (mandatory): +39 0583 490530.
 
Program of the celebrations (.pdf).
The event is included in the Settembre Lucchese 2021 program.
Dates
August 26 / December 10, 2021
Start / End Time
10:00 am / 6:00 pm - 9:00 pm / 11:00 pm (fri., sat,)
Place
Oratorio di San Giuseppe, Museo della Cattedrale. Piazza Antelminelli / Piazza S. Martino - Lucca
Ticket
Free admission (external projection) / € 4,00 (exhibit + museum)