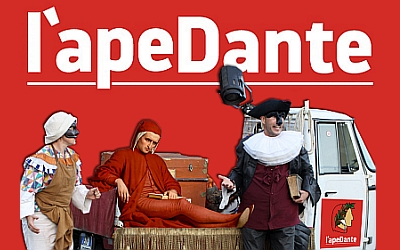 On September 18, the apeDante event is organised thanks to the Agorà Civic Library of Lucca. After Ape teatrale, the traveling theater created by the If Prana company, this time will stage Doctor Balanzone (Marco Brinzi) and Arlecchino (Caterina Simonelli), the two figures of the commedia dell'arte, in an ironic dialogue on the relationship between the city of Lucca and Dante.
The two characters have completely 'forgotten' Dante, the stilnovo and the importance of the Florentine poet in the Italian culture and language. Only with the support of the public they will be able to rediscover the most significant passages of the divine comedy and especially those related to the city of Lucca.
The stages of the apeDante event will be: The Civic Center La Scuola in the Piaggione area, the Bucaneve Center in the Santa Maria a Colle area, the courtyard of the Agorà Civic Library.
The event is included in the Settembre lucchese 2021 program.