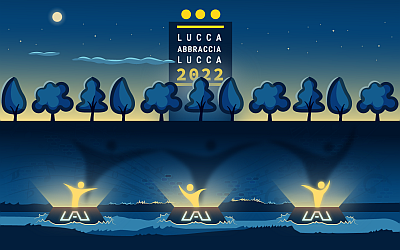 A hug from the city walls of Lucca - a human chain made of plays of lights and shadows in occasion of the National Memorial Day for the Victims of the Covid-19 Pandemic.
Lucca Abbraccia Lucca is a collective and emotional performance, a great symbolic embrace of the city to the city and to the entire world.
The artistic installation consists of the dynamic and synchronized projection of people's shadows, through the use of spotlights in the stands to illuminate the ring of the city walls. 500 people can participate in the performance lasting five minutes, and the event will be accompanied by music composed for the occasion by the students of the ISSM Boccherini music school.
For information and reservations please visit culturatela.it
Place
Area below the city walls of Lucca