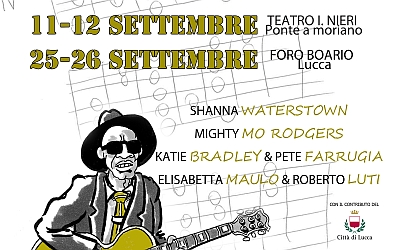 The 8th edition of Lucca Blues Festival and the 7th edition of Un Blues a Settembre this year are combined in a unique and extraordinary festival from 11 to 26 September in Lucca.
A music event dedicated to blues with world-class musicians and singers from all over the world.
The festival opens on 11 and 12 September at the Nieri Theater in Ponte a Moriano and ends on 25 and 26 September at the Foro Boario in Lucca.
Scheduled this weekend
Saturday 11 September
9.30 pm - I. Nieri Theater | Shanna Waterstown.
Sunday 12 September
9.30 pm - I. Nieri Theater | Mighty Mo Rodgers.
Reservations required while seats last from 1 September on FB / LuccaBluesFestival or via SMS and whatsapp (specifying: name, surname, telephone number) at +39 349 6602753.
The event is included in the Settembre Lucchese 2021 program.
Dates
September 11 / 26, 2021
Place
Teatro I. Nieri. Piazza del Popolo, 56 - loc. Ponte a Moriano (LU)