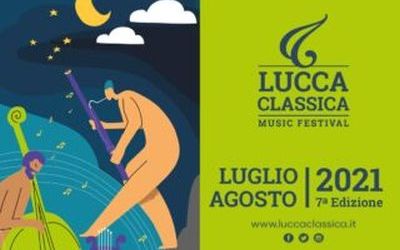 Great music and live concerts in new places with more than 40 events in the 7th edition of the Lucca Classica Music Festival, scheduled in the summer months of July and August.
The traditional anniversary edition is dedicated to Piazzolla, Stravinskij and Saint-Saëns. Insights on Napoleon and Dante Alighieri. A special memorial event dedicated to Ezio Bosso.
Scheduled on Sunday 1 August
12:00 pm / 1:00 pm - Puccini Museum | Guided tour in Italian language organized by the Giacomo Puccini foundation to the Giacomo Puccini birthhouse museum. Duration approx. 1 h. Max 10 persons. For Info and reservations: www.puccinimuseum.org/it/prenota-biglietti/shop - tel. +39 0583 584028 – e-mail: info@puccinimuseum.it.
(Tickets: € 7,00 / € 9,00)
4:30 pm / 5:30 pm - Villa Reale in Marlia | Via Fraga Alta, 2 - loc. Marlia, Capannori (LU) | La musica e i luoghi. Remo Pieri, clarinet; Massimo Salotti, piano. Musiche di J. Brahms, I. Stravinskij (50th anniversary of his death).
(Concert tickets: € 3,00. Admission fee to Villa Reale: € 5,00 / € 7,00 / € 10,00 / € 12,00 / € 15,00 / € 18,00  to be purchased on shop.villarealedimarlia.it)
9:15 pm / 10:45 pm - S. Caterina cloister. Real Collegio. Via della Cavallerizza - Lucca | The concerts of Pieve a Elici dedicated to Giorgio Serafini. Suyeon Kang, violin; Caspar Frantz, piano. Music by N. Paganini, F. Schubert, K. Szymanowsky, I. Stravinskij.
The event is part of the summer concert series Real Collegio Estate. Complete program Real Collegio Estate (.pdf)
(Tickets: € 5,00 / € 10,00)
9:30 pm / 10:30 pm - Puccini Museum. Corte S. Lorenzo, 9 - Lucca | Guided tour Giacomo Puccini e il Divo Caruso. Organized by the G. Puccini foundation. The names of Giacomo Puccini and Enrico Caruso on the same billboard were a guarantee for success, with the theaters sold out and astounding takings, with superlative reviews. A fame still alive today. But what relationship was there between the famous Maestro Puccini, an established composer, and Divo Caruso, the most famous tenor in the world? On the occasion of the celebrations for the centenary of the death of Enrico Caruso 1921-2021.
Reservations required: tel. +39 0583 1900379 – e-mail: visite@puccinimuseum.it.
(Tickets: € 15,00)
Presales of the main events online on oooh.events. Complete program Lucca Classica Music Festival.
Dates
July 3 / August 30, 2021
Start / End Time
according to the program
Place
according to the program