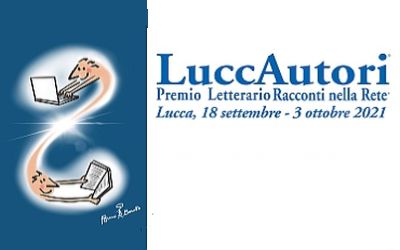 XXVII edition of the LuccAutori Festival linked to the XX Literary Prize Racconti nella Rete, conceived by Demetrio Brandi, president of the LuccAutori Cultural Association.
The details of the festival are available as usual on the website  www.raccontinellarete.it, where the participants can publish their own stories, as well as read and comment other stories.
The event includes meetings, art exhibitions and short films. During the meetings the twenty-five winning writers from all over Italy will be awarded. Many meetings are also planned with the winners of the Racconti nella Rete award with celebrities from the world of culture and entertainment.
 
Scheduled today, Saturday 25 September
10:00 am - Villa Bottini | Opening of the exhibit "Racconti a Colori". Exhibition of young artists with the participation of the Liceo Passaglia students. On display some drawings inspired by the 25 winning stories of the Racconti nella Rete Award.
11:00 am - Villa Bottini | Inauguration of the exhibition "Dante 7 volte 100" with drawings by important contemporary artists dedicated to the great poet, in the 700th anniversary of his death.
The participating artists are Sergio Staino, Bruno Bozzetto, Lido Contemori, Bruno Cannucciari, Giuliano Rossetti, Marco De Angelis and others. Curated by Stefano Giraldi. Special guests the actor Giancarlo Gori and the writer Mario Bernardi Guardi who presents his book entitled Toscani all'inferno (La Vela) and the humorous designer Lido Contemori.
The exhibitions can be visited until Sunday 3 October in occasion of the cultural meetings.
Here is the complete program. For information please call +39 0584 651874 or write to info@raccontinellarete.it.
The event is included in the Settembre lucchese 2021 program.
Dates
September 18 / October 3, 2021
Place
Villa Bottini. Via Elisa, 9 - Lucca