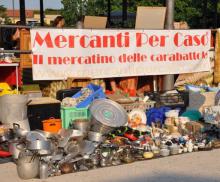 Traders by chance - il Mercatino delle Carabattole (flea market) is the oldest garage sale of Lucca and now the largest in Tuscany.
Since the first edition, on June 21, 2009 at Foro Boario, in Loc. Montescendi - Monte San Quirico, it wasa very successful event and today it is the largest covered garage sale in Tuscany, with stands made with great fun and enthusiasm by people who suddenly improvise themselves"merchants by chance". Here you can find used objects of all kinds.
The Foro Boario, located on the banks of the River Serchio near the San Quirico Bridge, was the nineteenth-century market of livestock, just outside the walled city, in the historic Borgo Giannotti.
Two visible turrets mark the entrance. There are three large canopies in the area, with concrete pavement, grooves and slopes typical of cattle markets. Behind the canopies there is a beautiful fully enclosed building, which is used by several associations for the realization of the most diverse cultural initiatives.
Exhibitors and Marketplace Updates to FB / Mercanti per caso - il Mercatino delle Carabattole
Luogo: Foro Boario
Indirizzo: Località Montescendi - Monte San Quirico (LU)
Periodo: all year round
Email: segreterialuccain@gmail.com
Telefono: 333 1606368
Sito web: www.mercantipercaso.com
Contatti: Lucca in
via Pisana, 1185 Lucca
www.mercantipercaso.com
Tel. 333 1606368 - info@mercantipercaso.com