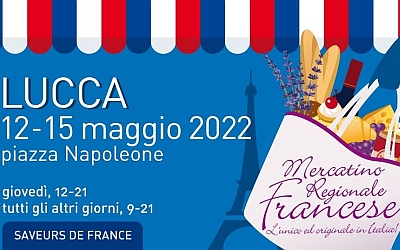 The aromas, flavors and colors from beyond the Alps are the focus of the new edition of the French Regional Market.
Excellent food and wine strictly coming from the French quality and tradition. Over eighty types of cheese, which can be combined with a wide range of wines from the most important transalpine production areas.
For those with a sweet tooth, there are "sweet tastings" with Breton biscuits, many chocolate types with refined flavors, macarons, the favorite desserts of kings and emperors.
A joy for your eyes is the large palette of colors at the spice stand and there will be no shortage of freshly baked baguettes and croissants in the Boulangerie space.
In this small corner of France in town there is also a space dedicated to craftsmanship, with a wide range of products from different regions: lavender, soaps, perfumes, Provençal tablecloths and much more.
Start / End Time
12:00 pm / 9:00 pm (thur) - 9:00 am / 9:00 pm (fri, sat, sun)
Place
Piazza Napoleone - Lucca