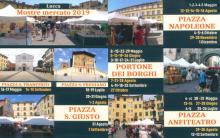 Itinerant artisan markets in the most beautiful squares of the historic center of Lucca.
As for the other appointments, the artisans of the area and from outside the province will present artifacts of great value and quality, in the name of a craft to be appreciated and valued.
On this occasion it will be possible to find different types of products on display, from leather goods to scarves, to costume jewelery.
Luogo: Squares of the old town
Indirizzo: Lucca, old town
Periodo: may - december
Email: info@cnalucca.it
Telefono: 0583 4301100
Sito web: www.cnalucca.it
Contatti: CNA Lucca
Via Romana 615/P Arancio 
www.cnalucca.it
tel. 0583 4301100 - info@cnalucca.it