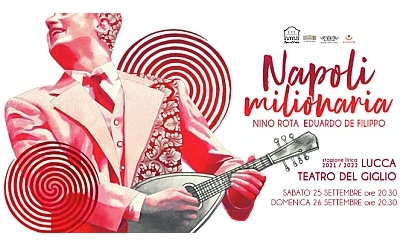 Opera delights in September at the Giglio theater in Lucca on Saturday 25 and Sunday 26 September at 8:30 pm in the hall of the splendid theater with Napoli Milionaria (2013 staging). A co-production of the LTL OperaStudio Project (Teatro C. Goldoni in Livorno, Teatro del Giglio in Lucca, Teatro di Pisa).
Lyric drama in three acts by Eduardo De Filippo, based on his comedy. Music by Nino Rota.
Conductor: Jonathan Brandani; direction: Fabio Sparvoli; sets and costumes: Alessandra Torella; costumes taken by Rosanna Monti; lights Marco Minghetti. Orchestra: OGI - Italian Youth Orchestra.
The choice of interpreters who alternate in the various performances is the result of the LTL Opera Studio 2019 project.
The event is included in the Settembre Lucchese 2021 program.
Dates
September 25 / 26, 2021
Start / End Time
8:30 pm / 10:30 pm
Place
Giglio theater, Piazza del Giglio, 13/15 - Lucca