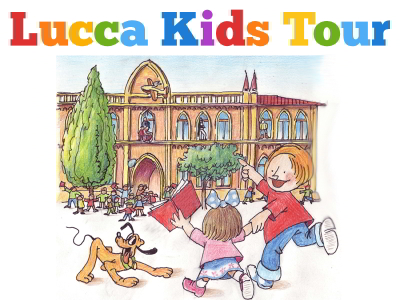 Tours for children between approximately 6 and 11 years accompanied by at least one adult. The children have the possibility to discover the decorations of the city looking for animals reproduced on the facades of churches and palaces. They learn to read a map by retracing the Roman, medieval and Renaissance city. The children will follow the path of the pilgrims on the Via Francigena route and, through Via San Paolino they reach Piazza San Michele to look for lions, dragons, sirens, sheep and rabbits. The tour ends at the Cathedral of S. Martino to discover griffons, eagles and winged horses. All children receive a booklet but, due to the current health situation, accompanying persons are asked to bring their own pencils and coloring material.
Meeting with the guide at 4.45 pm at the Tourist Information Office in Piazzale Verdi in Lucca. Start of the guided tour at 5:00 pm for totally approx. 1 hour and 30 min. The tour is organised in Italian and English.
The cost of the service is per child. Free for accompanying persons.
The visit is carried out respecting all sanitation and social distancing rules foreseen by law in this phase of health emergency. To allow a better organization of the tour, a reservation is required at the email address turislucca@turislucca.com or by calling +39 0583 342404.
Dates
June 13 / September 12, 2020
Start / End Time
16:45 / 18:30
Place
Historical center - Lucca
Ticket
€ 10,00 per child. Free for accompanying adults.