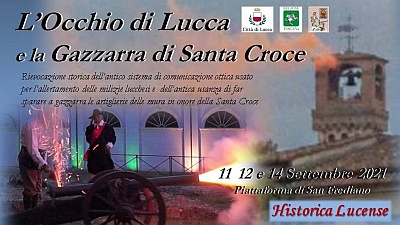 Two important re-enactments for the Volto Santo celebrations: L'Occhio di Lucca on Saturday 11 September at 6:00 pm. The towers of the ancient optical communication system used by the Republic of Lucca, between the mid-sixteenth and the end of the eighteenth century, will come into action again to alert its militias.
A smoke signal from the tower of the Nozzano castle will be detected by the Clocktower in Lucca and relayed to the Bargiglio tower through a series of passages that involve Monte San Quirico, Monte Catino, Castellaccio d'Aquilea and Brancoli.
Subsequently, the mobilization of the militias is confirmed, as established by the ancient "orders and chapters", with "two explosions of large artillery". The responses of the Brancoli and Bargiglio garrison follow in succession, responding through an acoustic signal.
The re-enactment will continue with the alert of the city militia and the bell of a city tower ringing.
The Gazzarra d'artiglieria at 12:00 pm on Sunday september 12 and on tuesday 14 september from the san Frediano platform. It was part of the traditional Republic of Lucca celebrations with the firing of blanks.
Fire and the roar of the shots want to honor the Volto Santo cross and remind all citizens the legal obligation to come to Lucca and participate in the Luminara procession as a ceremony of the Oath of Loyalty.
The event is included in the  Settembre Lucchese 2021 program.
Dates
September 11/12, 14, 2021
Start / End Time
12:00 pm / 6:00 pm
Place
San Frediano. Lucca