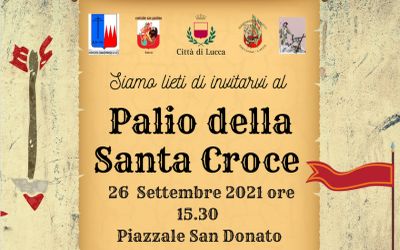 Crossbows in action for the 14th Palio della balestra in honor and glory of the Santa Croce. The three districts of the city compete for the award.
The Compagnia Balestrieri Lucca keeps the history and medieval customs of the city of Lucca alive by re-proposing the ancient city palio.
On Sunday 26 September from 3.30 pm in Piazzale San Donato in the old town center of Lucca, the crossbowmen, divided into three teams representing the three districts of the city of Lucca (San Salvatore, San Paolino and San Martino, whose representative colors are green, red and black), compete with a single shot for the honor of being the best shooter and the "Palio", a hand-painted cloth, which symbolizes the victory in public.
The competition is opened by the musicians and flag wavers.
In collaboration with the Contrade San Paolino Association, the Balestrieri Association of Lucca and the Sbandieratori S. Anna Group.
The event is included in the Settembre Lucchese 2021 program.
Start / End Time
15:30 / 18:00
Place
Piazzale San Donato - Lucca