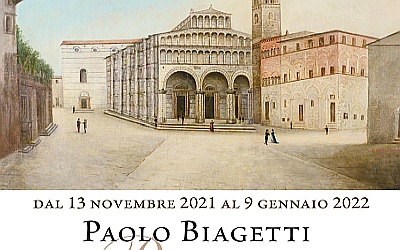 From 13 November 2021 to 9 January 2022, a retrospective exhibition dedicated to Paolo Biagetti, a late nineteenth-century painter from Lucca whose works can be found in several locations of the city, closes the 2021 events at Palazzo delle Esposizioni by the Banca del Monte di Lucca Foundation. The exhibition entitled Paolo Biagetti, Pittore is curated by Alessandra Trabucchi.
There are about one hundred works and documents, some unpublished, divided into 5 sections: landscapes and views of Lucca; family portraits; paintings of sacred subjects; drawings; documents of the time, public deeds, private deeds.
Among the works, located in the city of Lucca, there are numerous canvases in the convent of the Capuchin friars of Monte San Quirico, the 'Crucifix' in via Arcivescovado and the 'Portrait of Caterina Biagetti' in the church of Santa Maria Corteorlandini.
During the exhibition period, a cycle of cultural meetings to study the artist and his works will be organised.
Scheduled in the weekend:
Friday 26 November
5:00 pm - Palazzo delle Esposizioni | Fra Francesco Mori - L'ordine dei frati Cappuccini a Lucca: storie e vicende iconografiche in due opere di Paolo Biagetti.
Saturday 27 November
5:00 pm - Palazzo delle Esposizioni | Giuliana Pinto - Memoria... un filo d'oro esile e potente.
Dates
November 13, 2021 / January 9, 2022
Place
Palazzo delle Esposizioni. Piazza San Martino, 7 - Lucca