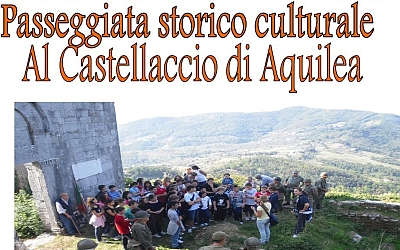 On Saturday 25 September at 9:30 am a historical cultural walk to the Castellaccio of Aquilea in memory of the battle of Castellaccio in Aquilea with the reconstruction of the last hours of the cannonade of the old fortified church.
The program:
9:30 am - meeting in the square in front of the church of Aquilea;
10:00 am - departure towards the castellaccio with stops at the most significant points;
11:30 am - stop at the war memorial for the commemoration;
12:00 - refreshment.
The walk is entirely accompanied by the figures of the gothic line of Lucca with uniforms and vintage vehicles.
Reservations required by calling +39 349 2824472. In case of rain or bad weather the event will be canceled.
The event is included in the Settembre lucchese 2021 program.
Start / End Time
9:30 am / 1:00 pm
Place
Square of the church in Aquilea, Via di Aquilea - loc. Aquilea (LU)