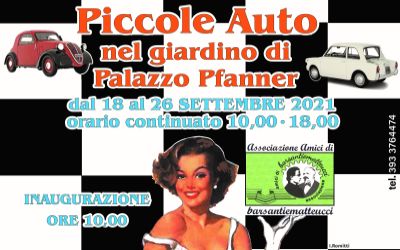 Vintage "Small Cars", produced from the early 1900s to the 2000s, the vehicles that have made the history of mobility on four wheels, urban and otherwise, in an exhibition organised by the Associazione Amici di Barsanti e Matteucci.

From 18 to 26 September at Palazzo Pfanner in Lucca, their minute dimensions and the intrinsic characteristics of each vehicle will remind us of distant times and take us on a journey into the past that has left its mark on future generations. A past that saw Italy emerge from a devastating world war, but which also expressed through these cars the desire for rebirth and progress, perhaps with a few carefree moments of "dolce vita", a spirit that is also optimal in the current period. Small dimensions, therefore, which made up the greatness of these 'small cars'.
The event is included in the Settembre lucchese 2021 program.
Dates
September 18 / 26, 2021
Start / End Time
10:30 am/ 6:00 pm
Place
Palazzo Pfanner. Via degli Asili, 33 - Lucca