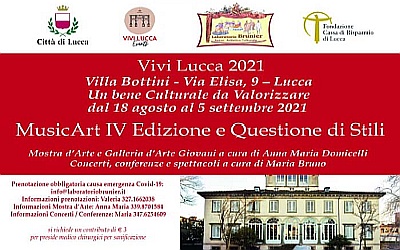 From 1 to 5 September, within the Music Art event also the festival Questioni di... Stili: generi e stili musicali (A questions of ... styles: music genres and styles) is organised.
Every day from 6:00 pm to 7:30 pm renowned musicians and musicologists are the guests of the famous music critic and musicologist Renzo Cresti.
In the program on Thursday 2 September
La Musica è Vita.  Book on the 20 years of the Brunier Laboratory's artistic and cultural activity and 10 years of Questione di stili. Presentation of the Lucca-Modica project, twinning between the two cities started in 2016 in the name of two great composers, Gaetano Luporini and Pietro Floridia.
Reservations required at +39 327 1662038 or info@laboratoriobrunier.it
For Information: +39 347 6254609.
The complete program is available on www.laboratoriobrunier.it.
The events are included in the Settembre lucchese 2021 program.
Dates
September 1 / 5, 2021
Start / End Time
6:00 pm / 7:30 pm
Place
Villa Bottini. Via Elisa, 9 - Lucca