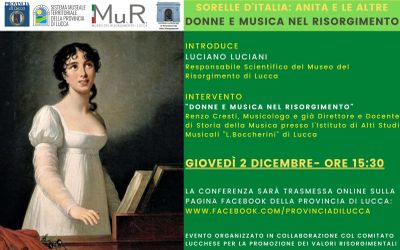 The relationship between women and music in the Risorgimento is the theme of the conference scheduled for Thursday 2 December in the calendar of meetings 'Sorelle d'Italia: Anita e le altre' (Sisters of Italy: Anita and the others).
The evnt is programmed on 3.30 pm online on FB / Provincia di Lucca
The meeting will be introduced by Professor Luciano Luciani, scientific director of the Risorgimento Museum and coordinator of the initiative, followed by an exhibition by Professor Renzo Cresti, musicologist and professor of History of Music at the 'Boccherini' Institute of Higher Musical Studies in Lucca.
Focus of the meeting is the strong commitment that women had to face so that music could become a full-fledged artistic work for them. A long and tiring journey that found, precisely in the era of the Risorgimento, a fundamental stage of cultural and social emancipation.
Place
www.facebook.com/ProvinciadiLucca