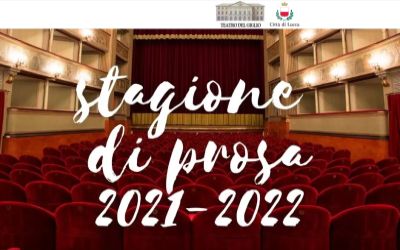 The Giglio theatre, artistic and cultural reference point in Lucca, considered a traditional theatre, offers every year a rich opera programme, which opens the theatre season, but also prose and dance with four performances, from a classical to a contemporary repertoire.
scheduled from March 11 to 13 for the drama season,
Ditegli sempre di sì by Eduardo De Filippo. - Lively opera whose protagonist is a methodical madman with a perfection mania.
Directed by Roberto Andò. Scenes and lights Gianni Carluccio. Costumes Francesca Livia Sartori.
With Carolina Rosi, Gianfelice Imparato, Edoardo Sorgente, Massimo De Matteo, Federica Altamura, Andrea Cioffi, Nicola Di Pinto, Paola Fulciniti, Viola Forestiero, Vincenzo D'Amato, Gianni Cannavacciuolo, Boris De Paola. Production Elledieffe - Luca De Filippo's Theater Company / Teatro della Toscana Foundation.
Friday 11 March at 9:00pm
Saturday 12 March at 9:00pm
Sunday 13 March at 4:00pm

For info and reservations - +39 0583 465320 (in the opening hours) - biglietteria@teatrodelgiglio.it
Online reservations on ticketone.it / teatrodelgiglio
Dates
December 17, 2021 / April 3, 2022
Place
Giglio theater, Piazza del Giglio, 13/15 - Lucca