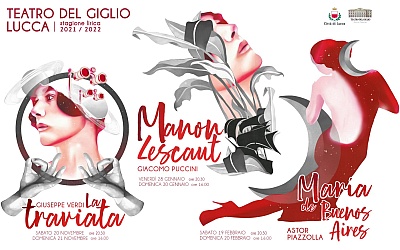 The Teatro del Giglio, artistic and cultural reference and Theatre of Tradition of Lucca, offers every year a rich program of Opera that opens the season with three shows dedicated to female protagonists, Prose and Dance, from classical to contemporary.

on the program on Saturday 19 February at 8:30 pm and on Sunday 20 February at 4:00 pm
María de Buenos Aires, the tango opera by Astor Piazzolla.
A dark story drawn from an urban legend that tells the sad story of the unfortunate María born in a miserable suburb of Buenos Aires.
New production of the city theater of Ferrara and of the Ravenna Festival Manifestazioni with the Giglio theater of Lucca.
Maestro Jacopo Rivani conducts the Arcangelo Corelli orchestra. Directed by Carlos Branca.
María, Martina Belli.
El Cantor, Ruben Peloni.
El Duende, Daniel Bonilla-Torres.
For information +39 0583 465320 - biglietteria@teatrodelgiglio.it
Online reservations on ticketone.it ot at the ticket office of the theater.
Dates
February 19 / 20, 2022
Start / End Time
8:30 pm - 4:00 pm
Place
Giglio theater. Piazza del Giglio, 13/15 - Lucca