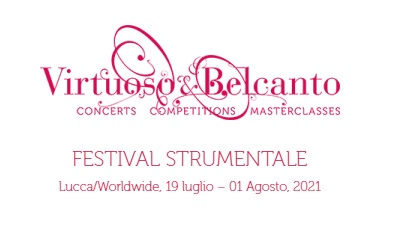 6th edition of Virtuoso & Belcanto, a unique and extraordinary festival dedicated to Classical music representing the best combination of high education, competition and Romantic music. Teachers and students meet in the summer months for intense live and online studies and live performance sessions concentrated in two weeks.
The Festival is an occasion for a meeting between different generations, between experience and passion, between deep knowledge and the desire to learn. An extraordinary symphony of emotions and talent invading the city of Lucca, celebrating its great musical cultural heritage.
In the program on Thursday 29 July
at 7:00 pm - Palazzo Pfanner | Virtuoso & Belcanto. The ensemble with Jan Bjøranger, Mark Gothoni, Bruno Giuranna, Paul Cortese and Peter Bruns performs Mozartìs in C minor KV 406 by Mozart, followed by the ensemble of Boris Berman, Boris Brovtsyn, Eszter Haffner, Paul Cortese and Xenia Jankovic performing Shostakovich's Quintet for piano and strings.
Dates
July 19 / August 1, 2021
Place
Palazzo Pfanner. Via degli Asili, 33 - Lucca