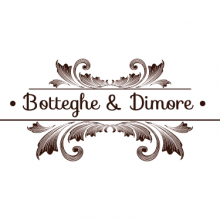 Botteghe e Dimore is a group of Italian Artisans and Artisans who is presenting its products in a traveling way.
They call themselves craftsmen 3.0. Re-evaluating the figure of the craftsman and the precious "handmade" product considering its high quality expression, is the goal of Botteghe e Dimore, a group of artisan masters coming from many regions of Italy, who exhibit their products in a Christmas market characterized by unique and high quality products, emphasize the strong social significance of craftsmanship of once atime when the atelier when secrets of knowledge were being passed on to the new generations of craftmen, benefiting from a direct relationship with traditions as dictatorials of social aesthetic.
In Lucca, the Market Botteghe e Dimore takes place during Christmas time in two appointments with different dates and locations, in order to allow an ever wider audience to visit and appreciate craftsmanship. For the occasion craftsmen propose a selection of precious items relaized with different materials that have in common only the accuracy and the creativity, but they are expressed in an absolutely original way, without disdaining the second hand materials with which are made fine items and trendy accessories.
Ceramic raku buttons, handbags made of tapestries and tires, refined Murano glass jewelery, shabby furniture and restored with vintage newspapers, vintage engravings and pretty crocheted hats with high craftsmanship techniques, are just some examples of the singular objects proposed.
More information about products and craftsmen and market dates is available on the bottegheedimore.wixsite.com site and on the FB / Botteghe e dimore.
Luogo: open gallery of palazzo Pretorio
Indirizzo: Piazza San Francesco
Periodo: December
Email: bottegheedimore@gmail.com
Telefono: 380 1225952
Sito web: bottegheedimore.wixsite.com
Contatti: 
Botteghe e dimore
bottegheedimore.wixsite.com
tel. 380 1225952 - bottegheedimore@gmail.com
FB / Botteghe e Dimore