DANTEDì, THE EVENTS FOR THE CELEBRATIONS
In the first hours of the morning the sun is rising in the constellation of Aries. It is the period of the spring equinox, when the sun rises and sets at the same time in all places of the earth marking the climatic moment of the rebirth of nature.
This way Dante gives us some indications to fix the date of departure of the journey that will take him, after the descent to the underworld, finally "to see the stars" and beyond: March 25, the national Dante-Day dedicated to Dante Alighieri.
For the occasion throughout Italy and in the world the genius of Dante is commemorated with many initiatives, this year with particular attention for the eighteenth anniversary of death of the Supreme Poet.
The first date of the celebrations of this anniversary is precisely the Dante-Day on March 25: in all over Italy a complete calendar of diversified events will be an opportunity to go a little further the famous Incipit and famous quotes of the Divine Comedy.
Dante travelled and lived in different places like Florence, Verona and Ravenna, where he lived until his death. But he also stayed in Rome, Arezzo, Pisa, Bologna, Forlì ... and probably even in Lucca, mentioned several times in the Divine Comedy not only with words of appreciation, but he certainly knew the Serchio river, the city wall, and a series of local characters met during his journey.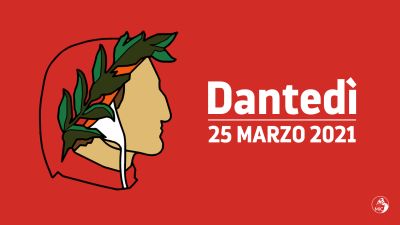 Dante-Day in Lucca
 
Also Lucca takes part at the celebrations:
March 25
At 12:00 pm the Agorà library participates at the event on social networks through the words and voice of Marco Brinzi, actor and director reading and commenting Dante. The video will be published on  www.bibliotecaagora.it and on FB / Biblioteca Civica Agorà with the official hashtag #Dantedì and #IoleggoDante.
 
At 5:00 pm the association Amici del Machiavelli, live online from the Lucca State Library, in collaboration with the library, the Catholic University of the Sacred Heart, Centro di Cultura Lucca and the Dante Alighieri society, organizing the conference that can be followed on YT / Amici del Machiavelli with Prof. Fabio Greco will talk about light and darkness poetry in Dante's Divine Comedy.
We suggest some selected texts to be read in advance.
 
The events continue in May with "Via Dantis", a theatre performance by the Centro Lunigianese di Studi Danteschi  which is inspired by the Christian Via Crucis transformed into a travelling "Lectura Dantis" in nine stages and eight fundamental poems.
From "Selva Oscura" to "Visio Dei" the audience will be accompanied in this path by a Dante expert (with interventions in some moments) through the entire celestial journey, assisted by a group of musicians and actors' voices.
The stages of the lectures allow listeners to live a complete experience of the sacred poem developed in a purely neoplatonic interpretation (M. Manuguerra, Nova Lectura Dantis, 1996).