Every day from April 1 to October 31.
On Saturdays and Sundays from November 5 to March 26.
Look at Lucca is an occasion for visitors traveling alone or in company to visit Lucca and share with others the experience of a guided tour in the historic town center. An interesting and affordable way to discover the wonders of the city.
Daily guided tour for indivuals travellers, families and small groups.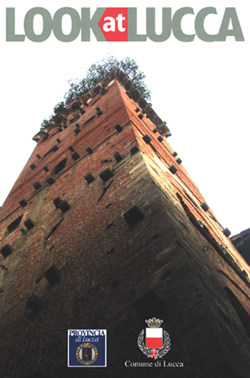 Alone or in company, but with an expert local guide. A relaxing walk through the millenary history, customs and scents of an ancient city that has preserved its identity as a small capital over the centuries.
With the guide you will discover, in about two hours, the main monuments along the alleys and the squares of the city, but also get a glimpse on hidden corners. The tour ends at the San Martino Cathedral with the possibility of a visit inside with the guide (additional cost of the entrance ticket to the Duomo € 3.00)
Meeting point: Piazzale Verdi at the Tourist Information Office
Guided tour start :  2:00 pm
Duration: around 2 hours
Cost per person: € 15,00 free for children up to 15 years, if accompanied by paying adults
Languages: Italian / English
For info and reservations: Turislucca
Via Ridolfi, 43 - 55100 Lucca
Tel +39 0583 342404 - Fax 0583 342525 - turislucca@turislucca.com
www.turislucca.com