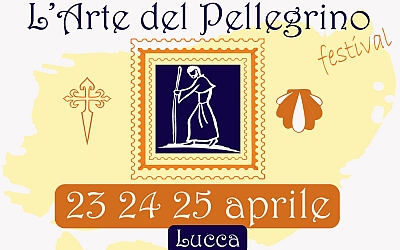 Arte del pellegrino, a three-day festival in the barracks of the Ancient Mint of Lucca between history, art, culture and food, focusing on the travel theme.
Many events are in the program. Percorsi contemporanei is a photographic exhibition curated by Carlo Vincenzi, with 12 black and white shots stolen from wayfarers and pilgrims during their travels. Itinerari del Gusto are food tastings of excellent local products, simple dishes inspired by the classic pilgrim's meal, but with a topical touch for modern travelers.
Starting on Saturday 23 April, Estemporanea d'arte, a painting competition on the theme of travelling and journey. The artists will animate piazzale Verdi with their easels, immortalizing the memories of their travels on the canvases. The competition ends the afternoon of the following day with a final ranking drawn up by a jury of painters and art critics. The three finalist works will be exhibited on Monday 25 April in the barracks; for the first classified the prize La croce del pellegrino, created for the occasion by the ancient Mint of Lucca.
Cultural meetings, conferences, shows and projections of docu-films on the themes of historical paths, pilgrimage and travel are planned.
The program of the event, information and regulations of the Extemporaneous art competition are available on fb / Promo-Terr
Dates
April 23 / 25, 2022
Start / End Time
11:00 am
Place
Casermetta Antica Zecca di Lucca e Piazzale Verdi - Lucca