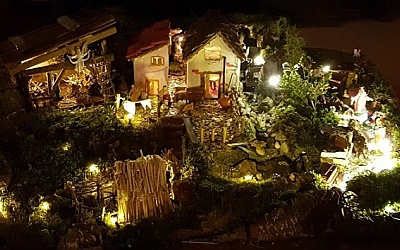 Small portable handcrafted nativity scenes, the result of passion and devotion made by citizens and collected by the choir of Lucca "Il Baluardo" for this unique exhibition / competition.
Il Baluardo, a choir of Lucca, with the support of the community of Santa Maria Corteorlandini, organizes an exhibition of portable nativity scenes in the church of Santa Maria Corteorlandini.
The exhibition will be open on 8 December 2021 to 9 January 2022 in the  weekends,  Fridays and Saturdays from 4 p.m. to 7 p.m., Sundays and public holidays also in the morning from 10 a.m. to 12 noon.
All visitors can vote the favourite nativity that will be given thhe award Rovaldo Taddeucci.
Dates
December 8, 2021 / January 9, 2022
Start / End Time
10:00 am/ 12:00 pm (sun and holidays) - 4:00 pm / 7:00 pm (fri, sat, sun and holidays)
Place
S. Maria Corteorlandini church. Via Giovanni Leonardi - Lucca