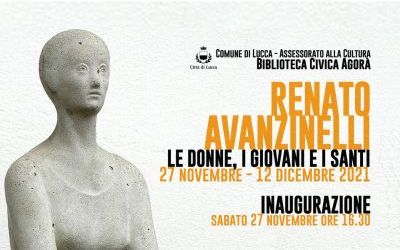 The retrospective on the occasion of the 51st anniversary of death of the great artist from Lucca which opens on Saturday 27 November at 4.30 pm at the Cloister of the Biblioteca Civica Agorà in Lucca is a tribute to Renato Avanzinelli.
The exhibition organized by his six children and many of his former students collects the most representative sculptures of his poetics, performed during the short but diligent life of the 20th century artist.
42 works dated from 1930 to 1969 and created with different techniques: from wood, to bronze and terracotta, from polychrome ceramics to concrete, a technique particularly loved by the artist from Lucca. Expert in modeling and 'casting' concrete, he has cultivated and educated since he was young the sensitivity for plastic volumes throughout his career, dominated by the great Tuscan tradition.
Catalog edited by Antonia D'Aniello (Pacini Fazzi publisher)
Dates
November 27 / December 12, 2021
Start / End Time
10:00 am / 6:30 pm
Place
Chiostro dell'Agorà, via delle Trombe, 6