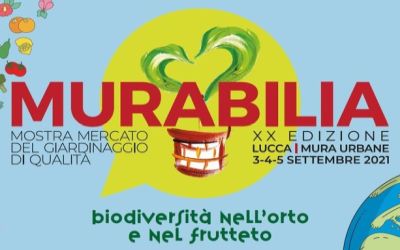 Murabilia, market exhibition of quality gardening, is one of the most important Italian events dedicated to flowers, plants and gardening.
Every year in the first weekend of September the city wall of Lucca on the bastions of San Regolo, La Libertà, in the Botanical Garden and in the basement of the walls hosts about 250 Italian and International specialized nursery exhibitors with an offer that ranges in all plant sectors with particular or recently spread plants, old and new cultivars, special equipment and furnishings.
Murabilia offers a remarkable cultural, botanical and horticultural programme, with themed exhibitions, conferences, new publications and workshops open to all visitors. An opportunity to get to know the city wall of Lucca in a particularly suggestive period of the year.
Murabilia XX edition - Biodiversity in the vegetable garden and in the orchard. This year the market exhibition is under the sign of FAO, in the International Year of Fruit and Vegetables. Ranging from parks to vegetable gardens, from balconies to orchards, particular attention is paid to plants proposed by the best Italian nurseries, with nutritional and medicinal value.
Focus of this edition are meetings and appointments with national and international experts of the sector; the opportunity to visit the beautiful nineteenth-century botanical garden of the city which houses many rarities.
A save the date for orchid lovers, with an exhibition and competition, and of course Botalia: a botanical illustration exhibition, unique in Italy that offers a rich number of exhibitions, awards and publications, as well as workshops dedicated to children about planting and plant care.
The event is open on Friday 3 September: 12:00 pm / 7:30 pm and Saturday 4 and Sunday 5 September: 9:30 am / 7:30 pm.
The complete three day program will be available on the website www.murabilia.com.
The event is included in the Settembre lucchese 2021 program.
Dates
September 3 / 5, 2021
Start / End Time
9:30 am/ 7:30 pm
Place
City wall, bastions of San Regolo / Libertà and Botanical Garden