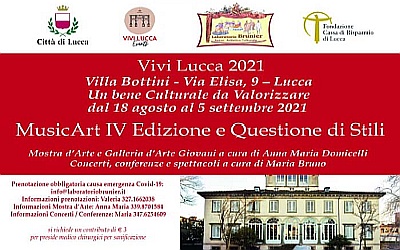 From 1 to 5 September, within the Music Art event also the festival Questioni di... Stili: generi e stili musicali (A questions of ... styles: music genres and styles) is organised.
Every day from 6:00 pm to 7:30 pm renowned musicians and musicologists are the guests of the famous music critic and musicologist Renzo Cresti.
In the program on Wednesday 1 September
La Canzone Napoletana.  Renzo Cresti and Giulio D'Agnello present the book by Renato Marengo Napule's Power in the presence of the author. During the presentation, performance of some songs by musicians featured in the book edited by D'Agnello.
Reservations required at +39 327 1662038 or info@laboratoriobrunier.it
For Information: +39 347 6254609.
The complete program is available on www.laboratoriobrunier.it.
The events are included in the Settembre lucchese 2021 program.
Dates
September 1 / 5, 2021
Start / End Time
6:00 pm / 7:30 pm
Place
Villa Bottini. Via Elisa, 9 - Lucca